tearful eye on a smokey cloud fractal
All our adult clothing is 100% cotton American Apparel goodness, and available in cuts to suit men and women. They're sweatshop free and extraordinarily soft, and we know that both of these things matter to you. Wash them cold and hang them up to dry, it'll keep them looking great, and is quite good for the environment too.
Win win.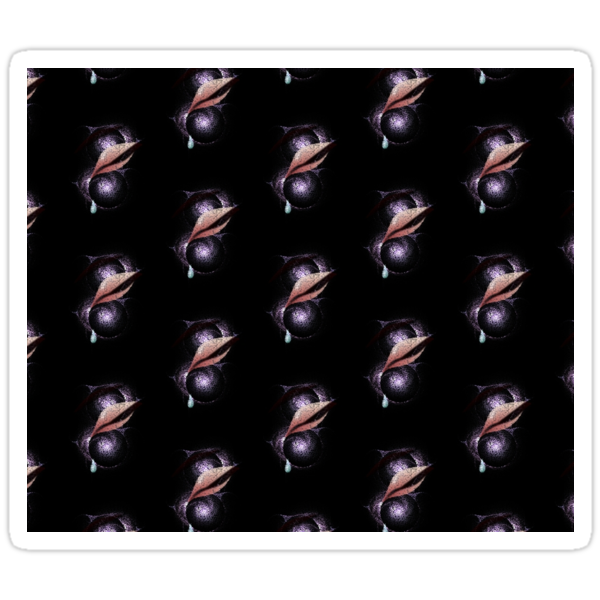 The grey line around the graphic is our cut mark, your sticker will look exactly as above, so some designs may be more than one piece. They will be printed to fit best on a 3x4" template, so a square image will have a maximum size of 3x3". The designs will have 3mm of white padding around them which is included in the overall size. We will also never enlarge an image, if the design is 1x1" that's the size it will print.
The material is a tough, white, premium vinyl sticker, good for almost any very flat surface, windows, smooth walls and laptops are ideal; bricks and wood not so. They are removable and can be taken down with little to no residue, but they're not designed to be re-stuck. We obviously can't guarantee all surfaces, some common sense will be necessary. Outdoors they'll last for at least 18 months.
The children's apparel is all 100% ring-spun combed cotton, constructed once again by American Apparel, so they're sweatshop free and extraordinarily soft. We tell you because we know you care about the clothes your children wear. It's really a boutique quality garment don't you know.
The One-Piece is crafted from 100% ring-spun combed cotton with three reinforced snap buttons. Available in short and long sleeve at 3-6, 6-12, 12-18 and 18-24 month. We've provided some measurements here, but we appreciate babies have a habit of being arbitrary sizes, so we'd like to tell you these are super soft and quite stretchy as well. And it has a lap shoulder to fit their exceptionally large baby heads through. The Baby T-Shirt, as well as being impossible cute, is constructed exactly as the One-Piece above, same size range, same lap shoulder, just as soft and stretchy. It's really a delicate, high end look that sets it apart from other baby tees.
Once again a superior 100% ring-spun combed cotton with a durable rib neckband. This is simply a smaller version of the already immensely popular adult unisex American Apparel t-shirt. Available in sizes 2/4/6/8/10 and 12 years. A